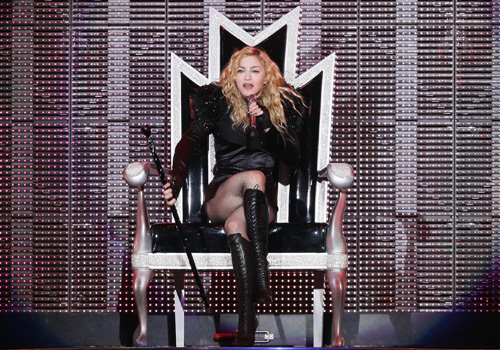 Just some nights ago, during a show on the MDNA Tour, MADONNA got wild just like in the old days with an epic presentation in Europe in which she purposely revealed her nipple to the public. Sadly, her daring move has incited mixed view points. A lot of her viewers have referred her move as a hasty attempt from MADONNA to cause a frenzy as she did back in the days.
Tough it seems, it totally sickened viewers. Madge is now viewed as desperate. There's no doubt, Madge made a huge error. Well, I conclude that Madge should renounce from daring acts. Madge is much too old to be displaying her nipple to the public at a tour like she's still a youngling. The fact of the matter is, that it is ugly. Madge spare us all that hideous sight!
Individuals know that a lot of Hollywood marriages do not last for a long time, but there are some celeb marriages that only last for hours. These stars on this list should have had a clue that they were not right for each other before tying the knot in the City of Sin or paying for a enormous lavish wedding ceremony just for a publicity stunt. Whatever reason they felt the desire to make a parody out of the union and now they have made their mark as having the short lived Hollywood marriages.
Below is the The Short Term Famous Marriages:
Britney Spears & Jason Alexander
Nicolas Cage & Lisa Marie Presley
Jana Kramer & Johnathan Schaech
Drew Barrymore & Jeremy Thomas
Dennis Hopper & Michelle Phillips
I'm certain that many more stars that will join this list for years. Cannot wait to see what other fallen apart famous marriages will happen in this year of 2012.
Gaga was doing a concert in New Zealand on June 10th of this year when a male backup dancer attempted to move a metal pole from the stage when he bashed Gaga on the top side of her head intensely hard. At that time Lady Gaga had bent down to get her fingers on a machine gun prop right before getting bashed. Right after the incident occurred Gaga staggered for a second and also rubbed her head. She slowly walked off the stage right after, but quickly returned to finish sixteen additional songs. Later in the concert Mother Monster addressed the fans and stated ""I want to apologize. I did hit my head and I think I may have a concussion. But don't you worry, I will finish this show." On Twitter, Mother Monster tweets a picture of her face where you can definitely see the bruising on her right cheek and around her right eye. The songtress also tweeted, "Emerging from hours of sleep". So, it looks like that the singer will be alright and is recuperate quite fast from her head injury. A lot of concert goers are blown away that Mother Monster could complete her New Zealand concert.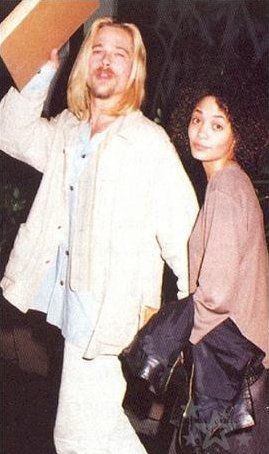 In the past there have been a few famous companionships that many fans do not know about. Lots ponder, "How did I not know about this?" The reality is plenty of celebs that did get together only hung out for a small amount of time and made sure to keep their partnership out of the public eye. While others were definitely the spotlight, but for one reason individuals either think no more of them or absolutely did not care about the relationship.
Below are the Top Three Celeb Companionships You Were Not Aware Of:
1. Jason Schwartzman & Zooey Dechanel.
2. Adam "Ad Rock" Horowitz & Molly Ringwald.
3. Corey Feldman & Drew Barrymore.
A lot of these famous couples must have took back some of the viewers as there were several that I personally did not even know about. It is a bit shocking to see several of these celebrities date and then sadly call it off as well. Make certain to continue visiting for a lot more cool celeb gossip.
If you haven't heard, yet again there's another substantial baby boom with women in Show Business. There's bunches of sexy & popular women in television that are as of recent pregnant. A couple of these women entail, the beautiful, Reese Witherspoon & Sienna Miller & loads more.
Women now more than ever share that they hunger being parents & feel the urge to experience their primal instincts rather than being on television constantly. All of these acclaimed, expectant mothers are looking so gorgeous as they long for the day they become moms.
Singles Out Jenny McCarthy flaunts her figure for her 6 Playboy magazine front cover for her 40th birthday. The Playboy Magazine presents the blonde beauty wearing nothing but fingerless net gloves and thigh high boots. McCarthy made her first debut on the front cover of Playboy back in October of 1993 to which she was announced as Playmate of the Month and then announced as Playmate of the Year a year later. For this Playboy issue she has an eight page photo shoot shot by Steve Shaw. McCarthy states, "I'm really proud of it. The pictures are really gorgeous and classy." McCarthy's Playboy cover is expected to display on magazine stores on the last Friday of June.
Kristen Stewart and ROBERT PATTINSON have true arrangements to get married and you can expect their a wedding day announcement any moment now. ROBERT PATTINSON surprised Kristen Stewart with a brilliant emerald ring, being that Kristen Stewart isn't a giant fan of diamond-jewelry like most women. I'm almost positive, that she might not love them because she's not merely just authentic and makes her own decisions but I speculate she comprehends that to have a diamond, on your digit, some poor child in 3rd World Country is made to work through harsh hours to come upon a cherished rock. Moving along, the nervous, green eyed beauty- Kristen Stewart a.k.a. Bella, doesn't thirst an elaborate wedding ceremony either, she yearns for something natural but just as much as the love they share with one another and their partnership.